Rimzig's Journal
Wednesday, November 21, 2001
---
Two Titans groups went to Chardok to help Vadraa get an epic item from a royal herbalist. We found the herb mob camp, but we didn't get a royal herbalist to spawn before we had to leave. Yenya did get a Sarnak Battle Shield during the raid.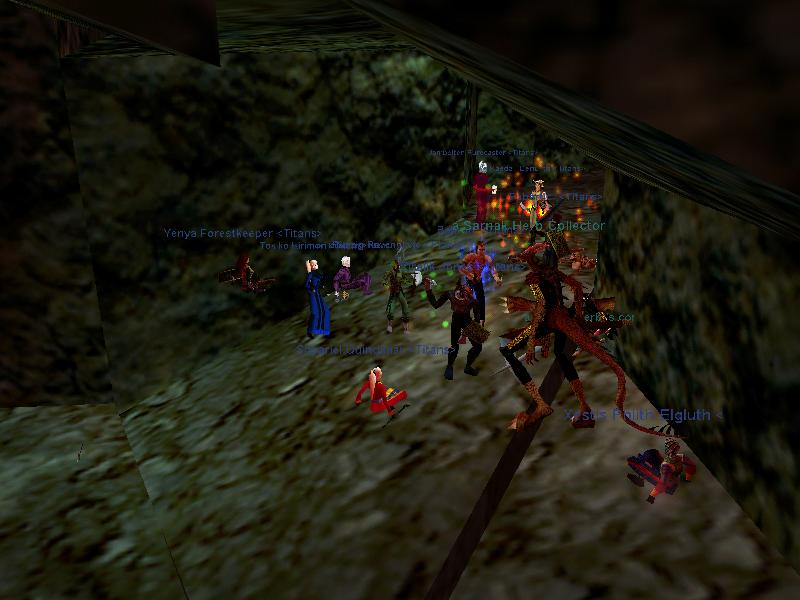 Hunting for a royal herbalist in Chardok
Venril Sathir's Remains Raid
I searched /who for a Ranger in Karnor's Castle and asked him if Venril Sathir's remains were on track. He reported VSR was up so I asked the Titans guildies for help in taking Venril Sathril down for my last Ranger epic item. Lepau had the most experience in leading VSR raids and offered to lead the raid.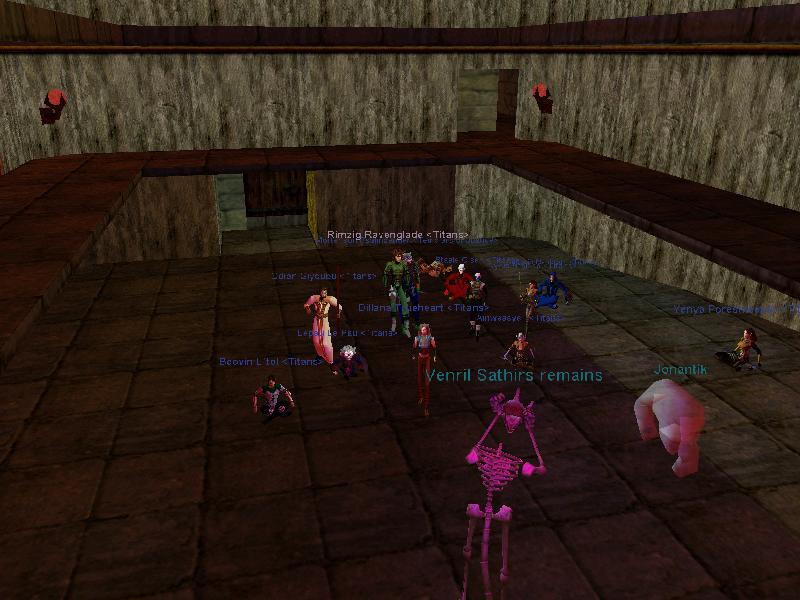 VSR raid party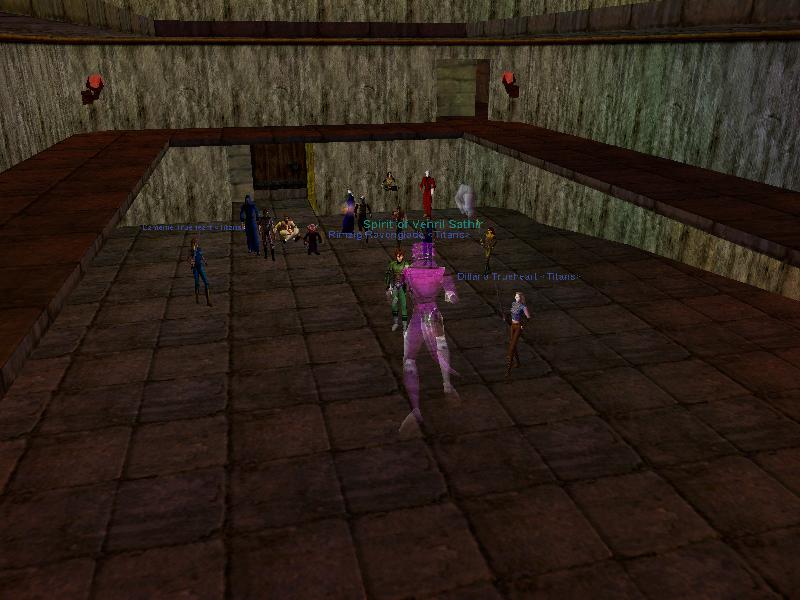 I gave Venril Sathir's remains a Firefly Globe which spawned the Spirit of Venril Sathir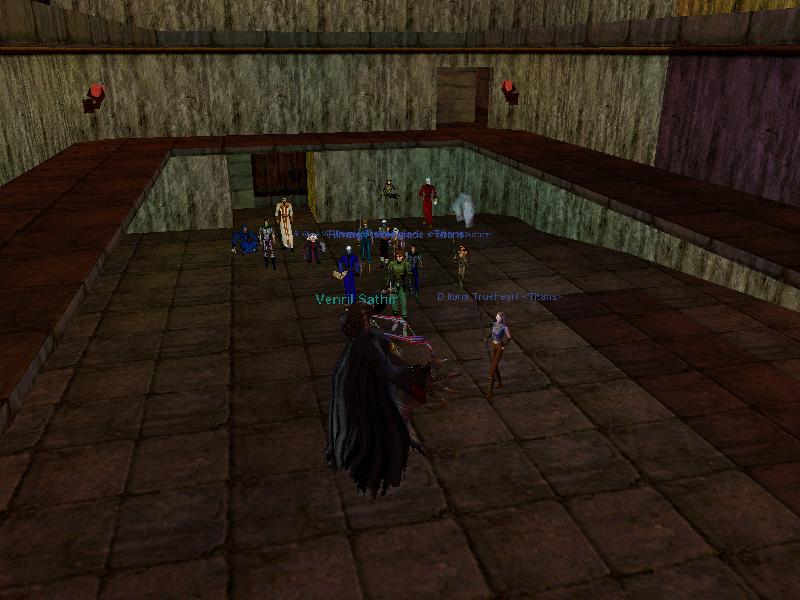 I gave the Spirit of Venril Sathir a level 49 cleric Resurrection spell which spawned Venril Sathir
Venril Sathir hit hard and I was the first to go down. VS Life Tapped others for 1500DD. Pickle and Cammie also perished in the battle, but the Titans were victorious.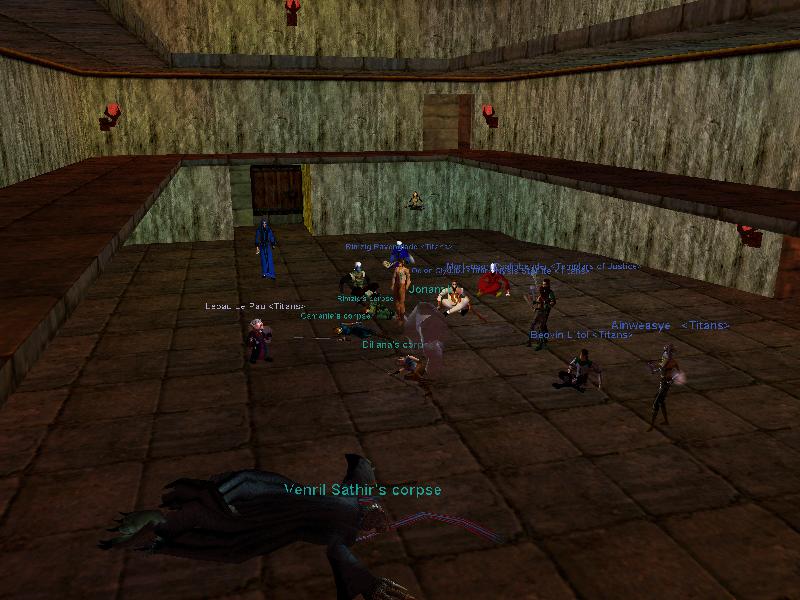 Nysis and I were the closest to completing our epics out of the Druids and Rangers in the raid party so we got to loot the two Pulsating Green Stones
Yenya then ported me to Fironia Vie, Burning Woods, Erudin, Kaladim and back the Burning Woods for me to talk to NPCs to complete the questing for one of two Ranger epic weapons. At 2:03am CST, I was holding Swiftwind in my hand.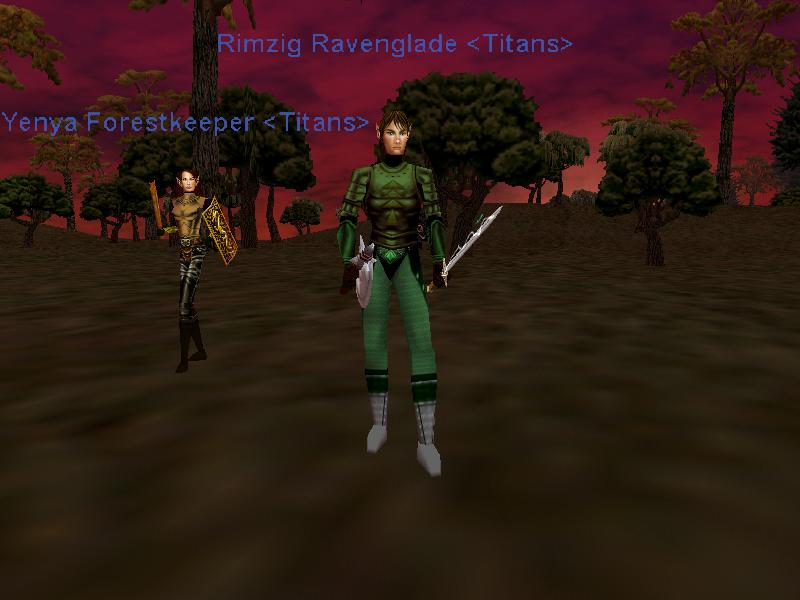 Rimzig with new Swiftwind Ranger epic weapon and Yenya with new Sarnak Battle Shield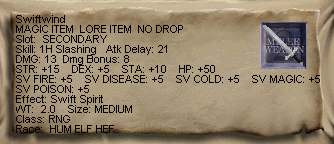 I want to thank Shaymus and Inari for leading all the raids that made it possible to get epic items, Lepau for leading the VSR raid, Yenya for porting me all over Norrath for the questing of the epic, and all of the Titans guild members who assisted in the heroic battles that made this epic achievement possible.
To get the other Ranger epic weapon, Earthcaller, all I need is the Shattered Emerald of Corruption that can drop off any of the bosses in the Plane of Hate.
---

Back to Rimzig's Journal


Back to Rimzig Ravenglade Main Page