Rimzig's Journal
Sunday, January 26, 2002
---
EverQuest Fan Faire Dallas
Rimzig, Yenya and Barelan attended EverQuest Fan Faire in Dallas. We also met up with Sephrin at the Hard Rock Cafe.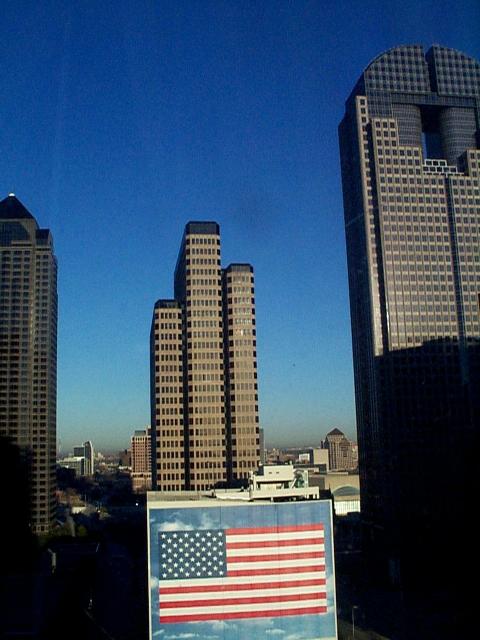 View of Dallas outside hotel window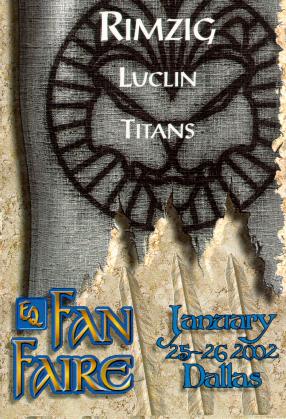 Rimzig's name badge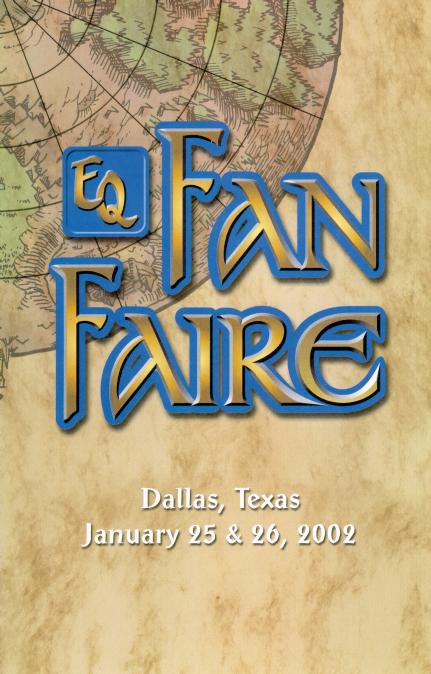 Cover of program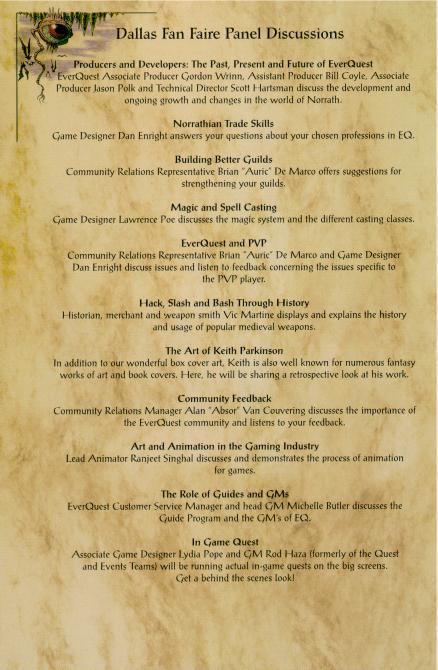 Page 1 of Fan Faire program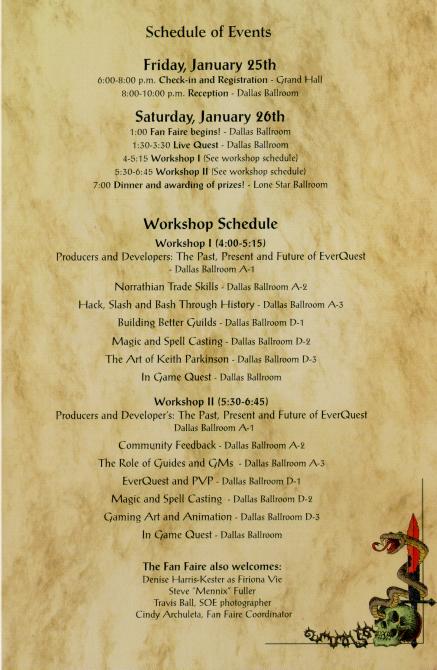 Page 2 of Fan Faire program
Reception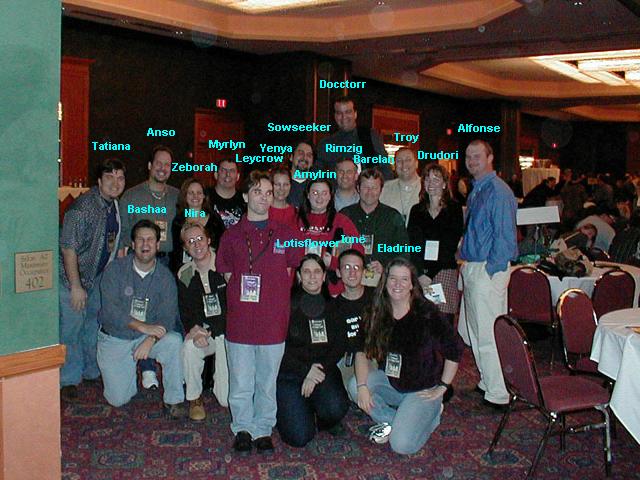 Luclin server players including former Luclin GM Leycrow
Hard Rock Cafe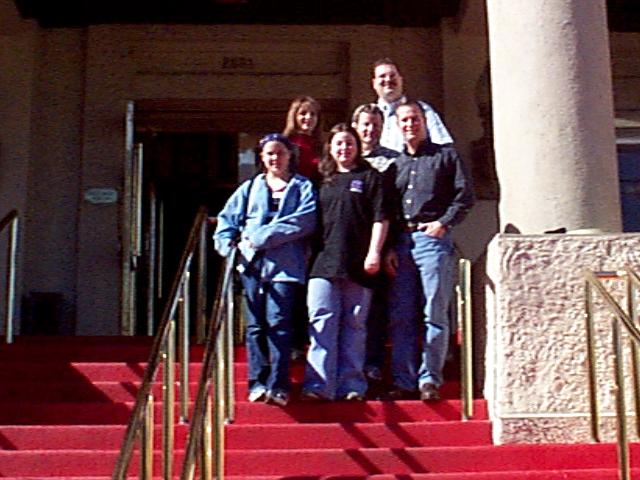 Sephrin's daughter, Yenya, Amyrlin, Barelan, Sephrin and Rimzig at the Hard Rock Cafe
Fan Faire Begins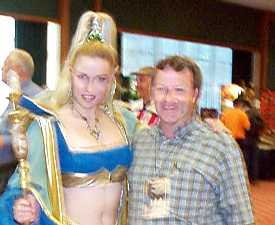 Barelan and Firiona Vie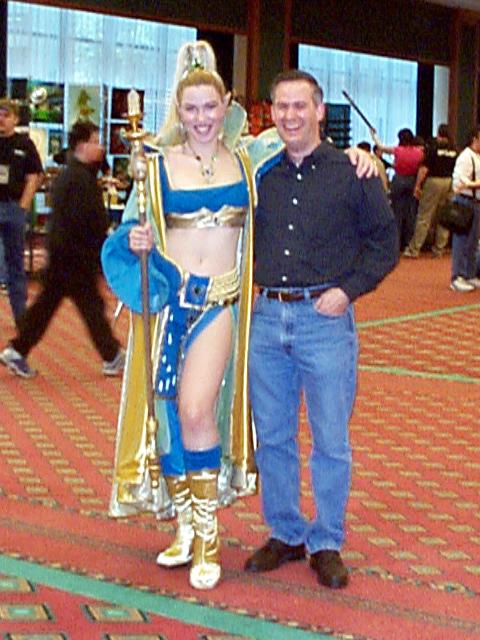 Rimzig and Firiona Vie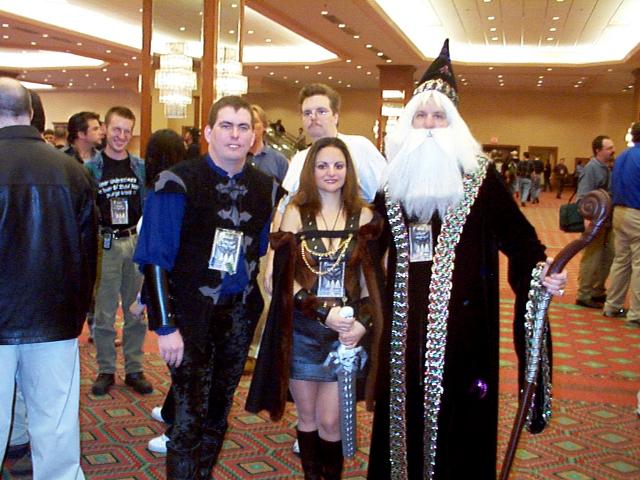 Mrlyn, Zeborah, Anso
Live Quest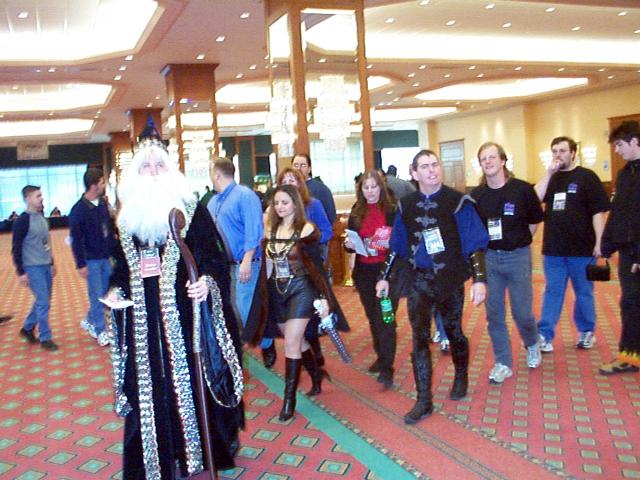 Anso is the Group Leader of one of the Luclin server Live Quest teams of 14 players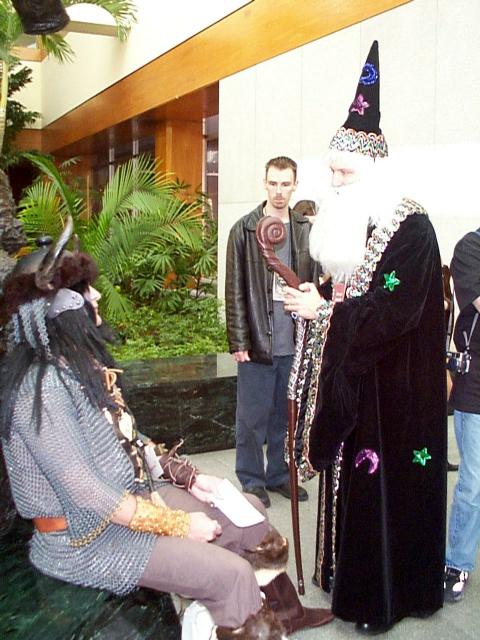 Anso hailing an injured Barbarian Warrior

Rimzig, Zeborah, Barelan, Anso and Amyrlin participating in Live Quest
This picture is from the EverQuest Dallas Fan Faire Event Scrapbook Photo Gallery on page 4
Workshops
Norrathian Trade Skills
The first workshop I attended was Norrathian Trade Skills. The one developer who works on trade skills as one of several tasks gave a one minute speech and opened the floor up for questions. Some highlights are listed below:
No new trade skills in the near future due to limited coders and higher priority issues
Developers are evaluating the Norrath economy due the the rapid drop in prices making trade skills unprofitable and therefore undesirable since crafted items become obsolete and devalued so quickly
Tailoring is considered the best well-rounded trade skill due to needing purchased items, mob dropped items and foraged items
Fletching is considered the best implemented trade skill due to not having gaps between items crafted
Baking was considered a good trade skill since crafted items are consumed and need to be replenished
A trade skill improvement device will add that percentage to your skill points while holding the device. For example, at trade skill 200 holding a +5% device would make your trade skill 210.
A transcript on the Norrathian Trade Skills Workshop is available as a Caster's Realm Article.
Producers and Developers: The Past, Present and Future of EverQuest
The second workshop I attended was Producers and Developers: The Past, Present and Future of EverQuest. Some highlights are listed below:
They are still working on Umbra issues
The new interface will have 8 spells per spell book page
The new interface will allow separate chat channel windows (for guild, auctions, raid, etc.)
Besides adding a raid channel, they are looking into ways to add raid experience, as well as ways to increase exp for those who move around in a dungeon rather than sitting in a single spot camping
The Bazaar works, but they have elected to create an interface for it rather than releasing it with cumbersome "/" commands
Epic weapon upgrade quests are being considered to bring epics more in line with current high-end gear
Bards are not broken purposely, but almost all code has exceptions for bards that gets overlooked
Bard Singing Steel Breastplate is going to be changed because effect is useless
The new Luclin character models will not be having their appearance or animations changed
There is no plan to reduce downtime any further
They are considering changing more epics to have some of the spawns be triggered
Items that raise skills don't have any effect if the skill in question is at 252
A transcript on the Magic and Spell Casting Workshop is available as a Caster's Realm Article.
Fan Faire Ends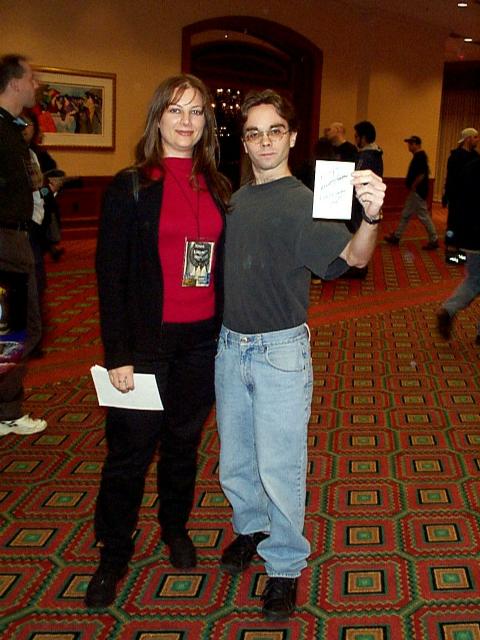 Yenya with Leycrow showing off his Firiona Vie autographed name badge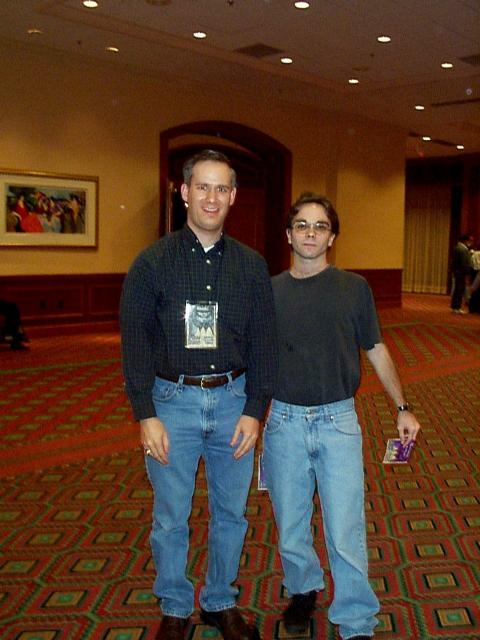 Rimzig and Leycrow
Additional Fan Faire photographs and a video are available at Solace de L'Esprit Guild web site.
---

Back to Rimzig's Journal


Back to Rimzig Ravenglade Main Page